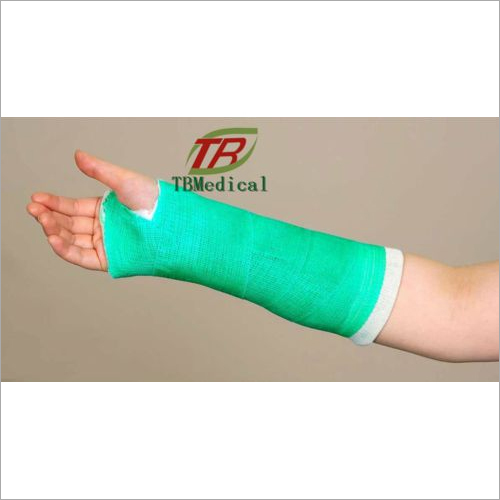 Product Description
1.Brief Introduction:
Orthopedic Casting Tape are made of special glass brazing or polyester fiber-based cloth impregnated with polyurethane. Polyurethane is used in medicine because of its good biocompatibility, non-toxicity, no distortion and no local irritation and anaphylaxis.
2.Advantage:
High Strength
Light Weight
Quick Solidifying and Good Mouldability
Easy Operating
Excellent X-ray Radiolucency
Good Air-permeability
Water-resistant
Environmental Friendly Materials
Clean and Comfortable
scope of application
To provide binding force to wound dressings or limbs
3. How to use:
1)Wear the gloves and choose the proper specifications
2)Use the cast padding or stockinet on the fixed part
3)Open a bag and take out the cast,dip in room temperature water for 4-6 seconds and press 2-3 times,take it out and squeeze out the excess water.
4)Wrap the cast spirally according to the need,keep the proper tension.Wrap 2-4 layers at non-weight-bearing position and 4-6 layers at weight-bearing position.
5)Shape the wrapped cast according to the need.The solidifying time is 3-5 minutes,20 minutes later the cast reaches the enough strength.
6)Use the electric cast saw to cut and remove it.
4.Data sheet:
Specification(W*L) Packing
5.0cm*360cm 10bags*12boxes/carton
7.5cm*360cm 10bags*12boxes/carton
10.0cm*360cm 10bags*9boxes/carton
12.5cm*360cm 10bags*9boxes/carton
15.0cm*360cm 10bags*9boxes/carton
5.Note:
The operator should wear gloves to avoid the polyurethane touching and adhering the skin.Open one bag at one time and use the cast immediately.Don't open multi-bags at the same time,so as to avoid weakening the strength.The cast need to be cut and removed by the electric cast saw.Pay attention to avoid breakage of the bags during transportation and storage,for touching moisture in the air can cause the cast to solidify.
Contact Us
No. 29, Shuinian Village, Jiulongpo District, Chongqing, Chongqing, China
Phone :86-23-85637666